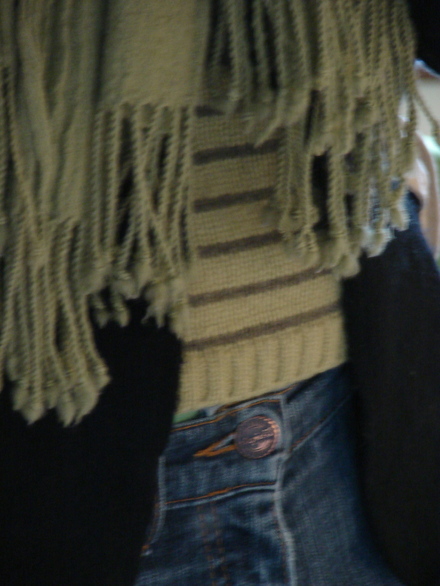 Have you seen the Self Portrait Challenge site? It's been around for so long and I've only just stumbled across them - but I'd like to try now! It's something I dared myself to do in February and I did do it for a while, but lately I've dropped it, due to lack of inspiration. Having a challenge every month could be exactly what I need, putting some magic back into it. For November it's what you wear:
...post an image of your everyday outfit - for work, or the weekend or whenever - and explain where you are going, what you are wearing and where the clothes came from - do they have personal significance or does the colours or fabrics have a meaning for you? Do you wear a particular brooch every Sunday or do you have a favourite hat that you only wear while gardening - explain your idiosyncrasies - perhaps you wear pink on Wednesdays - or your grandpas old socks to bed…

In this photo I am about to go off for a walk and have just come back from work. I am free to wear pretty much what I want for work, but I've dared myself over a few years to inch from the casual and non-descript to the comfortable but distinctive. I'm still exploring what my very own style is, but I've learnt so much about what I feel comfortable in, what suits me and what limits I will go to. For instance, I wear skirts and dresses more often than not these days, whereas a year or two ago that was unheard of. In the beginning I kept getting compliments (at least I think they were compliments) along the lines of - "Wow, I've never seen you wear a skirt before!".
However, at this time I also found a pair of favourite Wrangler jeans that I still love the fit of and wear often, they're in the photo above. I found them in a charity shop I go to lots as for the moment my studies are taking their toll, but I'm very happy searching for second hand clothes, it suits me very well. Where I live there are quite a lot of well-off people who can afford to buy good quality lines and give them away after the first use if they're not happy. You never know what you might find and the atmosphere in those shops is so much more relaxed and content - the way shopping should be I think.
You can't see it really, but I'm wearing a green and white striped longsleeved top underneath my pullover, that was also a second hand find, brand new. I adore stripes you might notice. The woollen pullover is from White Stuff a few years ago and I haven't worn it much lately but decided to pull it out again. It's only flaw is it's too short - I don't like anything that leaves my midriff bare, both for vain reasons and health-wise; exposure to cold. The jacket is a boiled wool one that I adore, it's perfect for slightly chilly autumn days, and I bought that in Reading on one of my college weekends this autumn. I'll show you the whole thing in a later post. The scarf is a woollen, sage green in a wonderful slanting and overlapping weave that was made in India, don't know anything more about it except it's wonderfully warm for being so light. I've been in love with greens over the last year - soft, natural and muted colours.