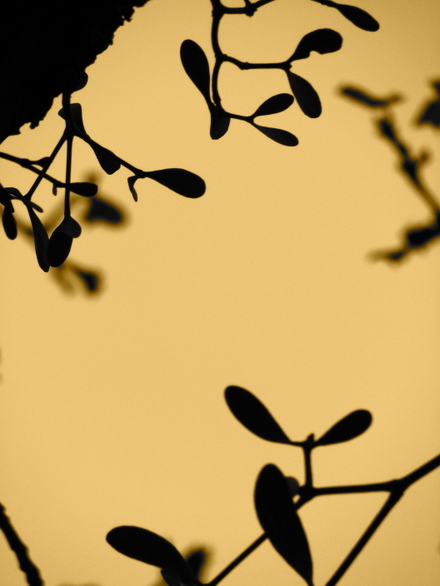 Whoa! What a week that was... So much to do, so much happening at the same time. But now we're in December and I can't help but feel happy in December! How about you? We've no snow like some of you so I'm looking forward to seeing the white powdery stuff when I go home to my family in Sweden in a couple of weeks time. There's no mistletoe there though and I have that here - aren't they lovely with their shapes?
At college this weekend I was thinking about you all - I missed not being able to write every other day as I normally do and I missed reading and commenting on your posts. I'm intending to catch up soon if you haven't seen me around. :)
I've made sure to steal some time to stock up though so the shop is now officially open - :)! I'd love to see you come over and have a look, you're most welcome. I'll be putting up more prints over time and feel free to let me know whether you have a favourite you'd like to see there.
Every December since I was too young to know how, I've opened an Advent calendar every day leading up to Christmas Eve, which is when we celebrate Christmas in Sweden. Do you have Advent calendars? Each year I've kept the one I liked the most and let go only of the ones that didn't have enough magic - you've got to have magic this time of year. Usually I'll buy one new one each year. The doors on my favourites are becoming worn from being opened, despite careful and gentle treatment. This one below is my all time most loved: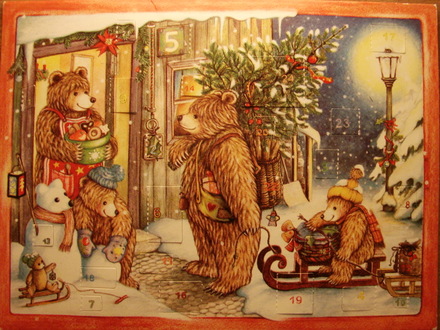 My mum sent it to me four or five years ago (it's the size of a postcard) and I coveted it straight away - who wouldn't? The Bear Family Christmas I call it - the title of the artist is On Christmas Eve and it's a German print. I think it was invented in Germany, the Advent calendar? In any case, they make the best ones :). It's got so many delightful details, I still gaze at it even though I've seen it a million times before. Love all the little parcels, baskets, goodies, decorations and sleds. Adore the patched green bag Papa Bear has! And you've got to see what's behind the doors - I get childishly excited over this, because they doors all hide a little something relevant to the scene. Wanna see? Go on then! The first of December had...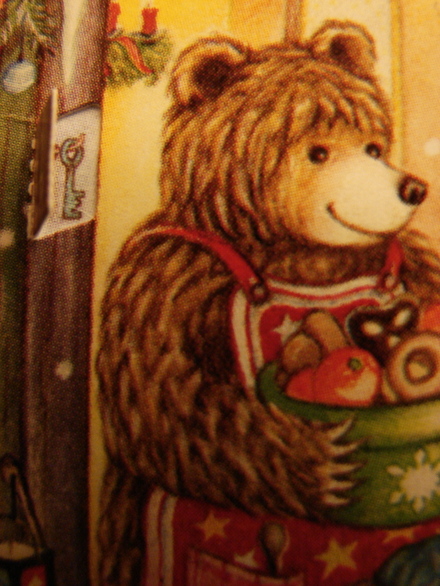 ...the key hiding place on the door frame. :)
For other days there are things like an acorn on the snow that has fallen off the sled, a mouse scurrying out the door or a little jelly bear that one of the bear brothers must have forgotten.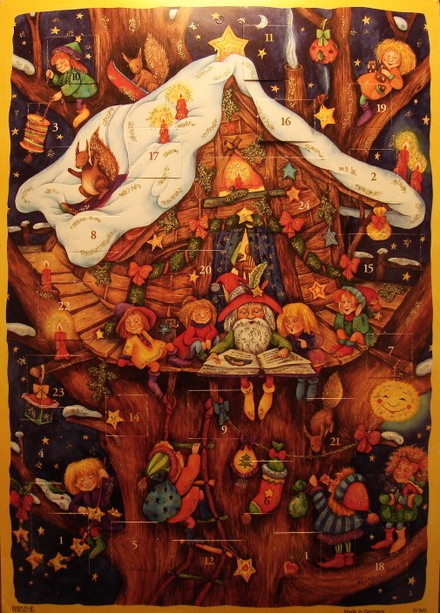 My second favourite calendar is the one with the elves living in a treehouse. Love the elfling with her pockets full of cookies in the top right corner - oh how I'd like to live in a treehouse! :)