Hello sweet friends. I hope you are well and life is lavishing sunshine on you. I never intended to be gone for so long and didn't like leaving you like that, but I did need the space. Something heavy but necessary to go through kept me at first, then 5000 words of assignments to write by pure stubbornness alone, and finally a weekend promised to babysitting for our friends in London.
The last exams are looming over me at the end of this week and the results of the first exams will be sent the following. Even though I hope I managed to crawl over the pass mark it was difficult and I'm not at all sure. The burdens in your mind and heart are always so much heavier than anything physical bearing down on you. I won't talk anymore about it though. Being tired and weary is one thing, dwelling on it another.
After I've rested I've got so many things I want to do and they're like little sparkly fairy lights at the back of my mind. I know there are things to look forward to and I try to keep returning to those, forgetting and then remembering again as they twinkle in the background. Several wonderful things have happened too in the meantime to make me beam and believe in the beauty of life - one of my photos was on the front page and spotlight on Etsy, sweet people ordered my prints, I received unexpected gifts (from such amazing friends), I was given yet another You Make My Day award, I was tagged twice (ooh - I'm excited about that!) and I've still got the writing about writing post nearly finished.
The photo above I'd called the field on the other side of the lane, which it is, but someone in the comments on flickr renamed it gate to fairyland which I thought suited it better, don't you? I like door to the land of faeries myself. Whenever I'm not studying these days I disappear through that door, finding enchanted worlds and meaningful living. Faerie food doesn't sustain you unless you use it to grow yourself food in the real world though. I've been living a bit too much in dreams lately, it's time to grow a garden the other side of that meadow. This is my year of vitality, I try to remember that, a year of real life. Of warm, throbbing, exhilirating, hands-in-the-soil, feet on the ground, adventurous, colourful, shining, light in the eyes, far from perfect and delightfully human living.
I'll be back soon, and sooner than that to all you people I haven't visited in a long time now. Until then wishing you sprinkles of faerie dust and that sudden joy of being alive that makes your heart suddenly rush and your feet dance an extra step into your walk.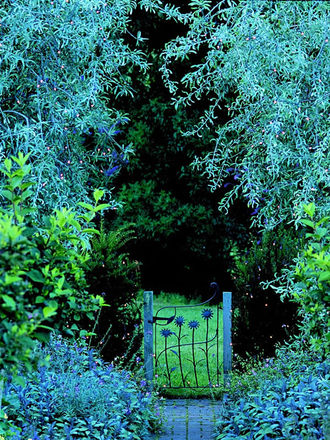 the magical garden gate with the twinkling fairy lights is my favourite too on the inspiration clothes-line. it's from this delightful online shop called cox & cox.