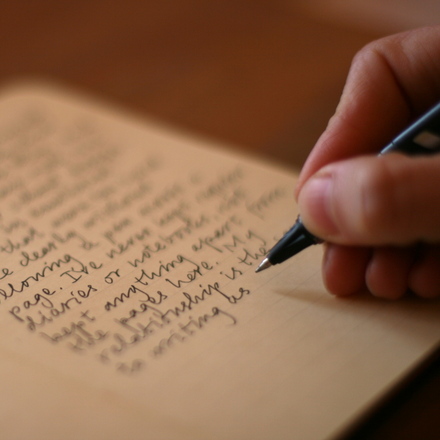 I've never considered myself to be a writer. I only ever write here and in the past have only ever written for school assignments or in emotional places that were too hard to see clearly without following a pen across a page. I've never kept regular diaries or notebooks, not kept anything apart from the pages here.
My relationship is the same to writing as it is to drawing - I love it, and I love it the most when I haven't got a clue where the sentences in a paragraph or the curves of a sketch appear from. Those are the times I almost keep what I've created, when it feels like it wasn't really me in the first place. But I get so attached to what I write or draw, a pride that perhaps stems from my dad who is always fiercely proud of what his children create. It makes me feel sick eventually, the desperation of wanting to be great. So I let it go, throw it away. Apart from here.
From the beginning I have been letting quickly written blog posts go out, trying not to think too much about my writing style, just carefully looking them over for missing rhythm or the occasional right word. Lately I've poured over them more though, thinking about who I am in my writing... Worrying that it is off-putting, not personal enough. That I am still too attached to the beauty of language, forsaking the down and dirty version that would have shown more of me. I've compared myself to people whose writing I get lost and absorbed in, who don't dress up their honesty in beautiful words, who use shorter sentences, who dare address their readers differently, who make the most mundane things sound inspiring, who wrap it all up in a satisfying bundle at the end.
I've wanted to be more like this and that, collecting aspects to try, aching to be different. Feeling stuck with a style I never accepted was mine, thinking it's only what I've been using until I find my own. Which is true, I want to change more and more into what is me. But, this is me already. This is my voice that I have to work with. It's been a bit of a shock to realise, as it's been a shock to see that my photos will always have traces of me, always be of the same mould regardless of where I will go.
It's been time to pull the strings of those dreamy balloons closer to me, to realise where they are tethered to, where they'll always originate from however far out in the ether I've pictured them. And that is good. Life is telling me in yet another way that I am ok. Even though I'm sighing at the end of the string - oh not her again! Why does it always come back to her? I know her so well and I much prefer the exotic ways of these other people, why can't I be like them instead?
So in the middle of this figuring out what it's like to accept the limitations and possibilities of this specific patch of earth I'll always be standing on and what to make of it, I got tagged. I'm to write three things about writing. I was delighted at first, the pride of having your writing noticed. Then ashamed, because I really have no advice for that kind of writing, you know writing writing. I want to write about those aspects I've collected from other people, what I want to be like but am not yet. But I can't do that, that's cheating, really. So calming down I realised I'll just have to write about the few things I do know, about blog writing.
Number one is pretty much already dealt with - be who you are. Make the most of what your voice offers, whether that is frank and humorous, poetic and dreamy, honest and true to emotion, factual and trustworthy or wild and spontaneous. Figure out what you write well and aim toward some aspects you think would improve your writing, but never forget where you're coming from and what your basic personality is like.
Number two is to not be afraid to go into the little things. For myself and perhaps other people too, I'm still too polite and shy, not wanting to take up time or effort of other people and being frugal with the words. Somehow it feels helpful to summarise our lives for the ease of the reader, giving the bare bones of our daily life, feelings or thoughts. But when I read my own stuff, the writing I like the most is the one that just describes one little thing or experience in depth, where I can really feel it, like being there.
So rather than 'I did the laundry, had coffee in town and laughed with my boyfriend' perhaps 'the mountain of whites was overflowing into the next room and I had to wade to the washing machine, but that feeling of having a neatly folded pile smelling squeaky clean and fragrant, the warmth of the fabric and the tidiness around the empty laundry basket is unbeatable.' Err, never written about that before, but there you go! Hope it makes sense. :)
Number three is to play. Let some magic into your writing, dare a little more. Say something without explaining or apologising for it. Dare be yourself - be contradictory, scrap the false modesty, play around. This is your blog after all and you as you are is so much more interesting than the ideal that we all share. I dare ya! And you should dare me too, god knows I've still got envelopes to push. Want to come play with me?
(I'm supposed to tag three folk now, but I'm so curious about all of you so please will you write three things if I ask you, yes you?)

Right, that wasn't so hard! This one's been sitting nearly finished in my drafts for weeks now, I'm glad it's left the nest. That's two tags down, one to go.
I'm free and light as a bird these days I'm happy to report. The dark clouds that followed me around due to a certain situation have finally shed their rain and the theory exam results arrived today. I pounced on the poor letter and tore it open, more than a little nervous that I flunked the thing. I didn't. Yay! So that's nearly two months of college freedom ahead of me, full of friend get-togethers, crafty projects, novels, poetry and breathing in spring away from that desk.
Yesterday I spent a peaceful afternoon scanning photos from India and Brazil and today I've been making up affirmations to print out, doodle pretty colours on and stash away in a sweet pouch somewhere. I'm preparing for spring cleaning - for the place, my body and my mind. Feeling ready to leap into a new life and that squeaky clean, fragrant, tidy and satisfying place where life is flowing smoothly. The laundry has been overflowing for too long.