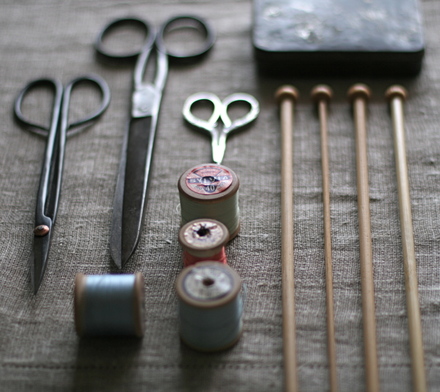 My battered pin tin, old wooden spools, long vintage scissors, tiny embroidery scissors, black japanese ones and bamboo knitting needles
I love surrounding myself with old functional things. Or, if not old then at least made of natural materials and built to last. There is not only beauty in that, but vitality, a sense of meaning and responsibility. Well-made tools become more beautiful the more they are used, feel alive from the spirit the craftsman put into them, give meaning to work because you enjoy using them and give a sense of responsibility to look after and put love into what you create.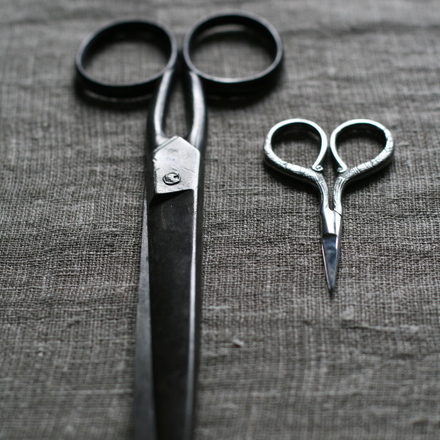 My favourite pairs of scissors. The long ones have just the right balance.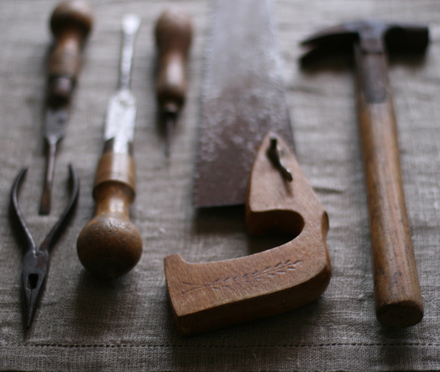 I love the wooden handles on these tools, and the way they have worn.
On an outdoor market in Brighton I once found a stall run by two old gentlemen, filled to the ceiling with boxes of vintage tools. A young woman trawling through their piles seemed to be a bit of a novelty (and I think it might have influenced the prices) so I got all the help I needed. Not that I would have minded spending that hour on my own finding treasures, but I had so much fun talking to them and it made me feel comfortable hanging around. I asked them if the long pair of scissors above would still work, which prompted them to polish them up for me for free (they still work a treat, so sharp).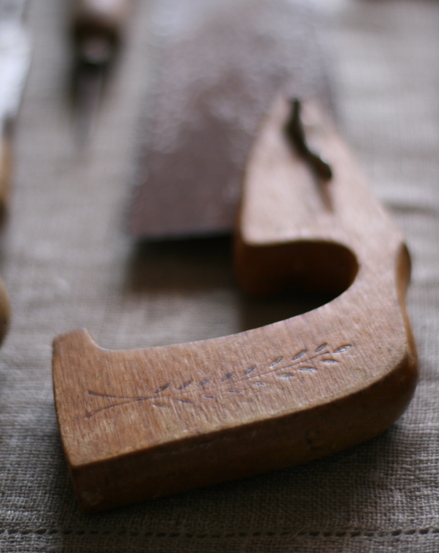 The little things that show the craftsman cared and loved what he was doing always touch me. The beauty in the general design, but mostly the decorations that aren't functionally necessary but add to the joy.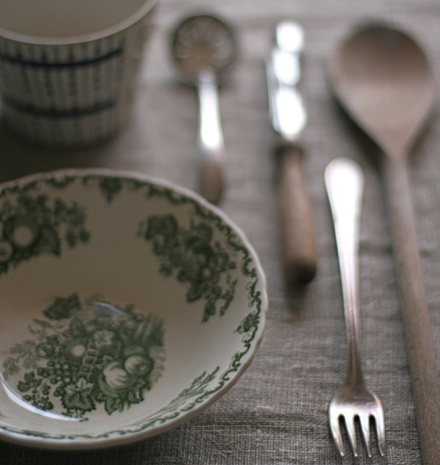 A cracked Mason bowl, a worn wooden spoon, an old silver fork, an apple corer, my gran's old cup that I broke the handle off and a charity shop find: a serving spoon with decorative holes in it for which I don't know the purpose, but I love it and use it.
The things we use every day and look at often are so important to me. I want to feel the purpose and meaning and joy of the everyday things, feel I deserve to eat on pretty china, use tools that make the small things a celebration and feel surrounded by objects that have been lovingly made and lovingly used. What are your favourite things or finds?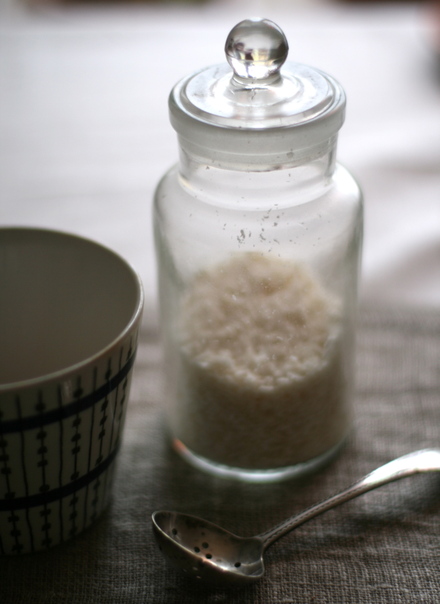 One of my polished fit glass jars, reminds me a bit of a snow globe in this light.