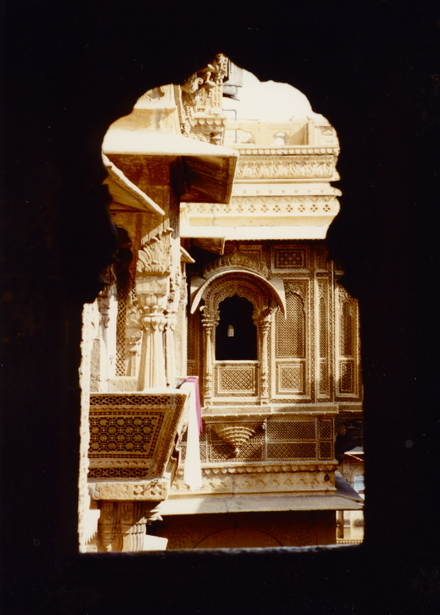 (Hello you... I'm still here. Listening to Louis Armstrong because it comforts me, staying in my pj's all Sunday because it feels safe to write in bed, feeling bashful posting this since I haven't commented on what you wrote, struggling with feelings that are desperately wanting to come out of hiding, walking gingerly with muscles trembling with old fears after a shiatsu treatment set them free, smiling tender smiles at the leaves my friends are unfurling, the chestnut, the beech, the linden.
I might not have commented on what you wrote or even replied to your email (ay!) but you're all lovingly held in my heart and my thoughts. Perhaps I should declare a break but I haven't the heart to do it, I want to come back soon. I feel terribly naughty staying away, not so much here, but in letting you know I read and care about your lives. Actually, feeling naughty has been a theme lately so whatever is going on I'm pretty sure it's old. Perhaps declaring I wanted to gather my twenties near has somehow gone horribly wrong, landing me in my terrible two's? I'm in any case grateful, feeling life scouring me clean, slowly washing off the travel dust of 29 years.
I've spent time here and there writing down some parts of my travels in India and felt I might as well post it now, even though I'm not exactly back. Please bear with me if you can, I will be with you again. In the meantime I offer you this other journey. Much love to you and for whatever you are going through I send tenderness and courage.)
When I was 19 and had just graduated from school I had long decided I wanted to travel somewhere. India had never crossed my mind, it wasn't really heard of in Sweden and didn't have the backpacker reputation it has now. Had it been up to me I'd probably never chosen it either. You might be thinking colourful saris, exotic smells, holy cows, beautiful scenery, intriguing temples and delicious food, but I had no preconceptions really, conjuring images of stereotype Indian men from silly films, not having had much other exposure.
But while on an excursion to one of the universities I considered doing my medical studies at I shared lunch with a girl from a different class that I barely knew. It turns out she also longed to travel and she knew what she wanted, so India it was. I had no objections because something that had been weighing me down without me realising it resolved itself - I didn't have to go alone.
We arranged a place to do voluntary work at, wanting to not just sightsee but get to know the country. On the day the application pack arrived I called her jittery with excitement, only to be dumb-struck at her response - 'Actually, I've changed my mind... My university course starts next Monday'. Well, shoot, I'll go on my own then. I don't know how serendipity works, but whenever it interferes in my life it's always turned out more wonderful than any of my meddling or planning. That journey couldn't have worked out better.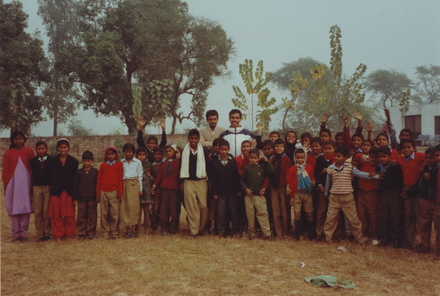 The school in the countryside north of Delhi. The girl in pink to the very left was an untouchable, the lowest caste, but she was allowed to listen in on the classes while sweeping the floors. :( Also, the students were almost exclusively boys
I was met at the airport and transferred to a tiny village in Uttar Pradesh, close to the border of Nepal, where the night skies were the deepest I've ever seen, I kept mistaking fireflies for falling stars and wherever I went a throng of curious villagers would surround me. My next stop was a school north of Delhi, surrounded by sugar cane plantations, sparse forests and dusty roads flanked by mudhuts and squatting women preparing cow pats for fuel.
Myself and two other volunteers - Ina; a German biologist a few years older than me and Gertrud; a middle aged woman from Austria - were supposed to work as support teachers at this school for age groups 4 to 12. The idea was that speaking English with the ordinary teachers would sift down knowledge to the students. Though I don't think we were much help to them - disrupting the classes with our presence, kids gawping and trying to impress us with their antics. We ended up trying to hold a few classes each in mathematics and English.
My favourite was the kindergarten class with the four-year-olds endearing with their chanting of the English alphabet. However, one day I got to mind them for a while on my own and as soon as the teacher was out the door mayhem broke lose, my God. I had experience of their age group but not in such numbers and without speaking their language I quickly lost all structure. Which would have been fine I suppose as they were so young, but I figured they were trying out how much I would tolerate. At my wits' end I finally roared at them at the top of my lungs to gain their attention and put a stop to the screaming and fighting.
All the little heads turned in stunned silence and for a second I could consider what to do now. Then they promptly returned to whatever screaming or fighting they were up to before. Apart from one little tot at my feet still staring up at me, eyes wide. What exactly he said in Hindi I still don't know, but the message was clear enough - 'Do it again!'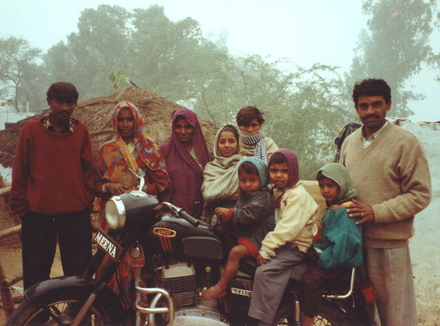 The caretaker and his extended family with the pride of the household :)
The kids I preferred to spend most of my time with didn't go to school though. The caretaker of the school and his family lived in a mud hut behind the wall surrounding the property and I'd jump that wall whenever possible. His two youngest children were quiet, shy and so sweet. We'd sit on the wall, wander round or do some drawing with my coloured pencils. The family taught me rudimentary Hindi and included me in their day, laughing with me, offering warmed buffalo milk on cold misty mornings or sickly sweet chai.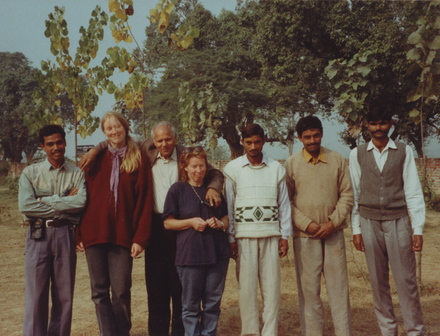 Ina and Gertrude, my two volunteer partners, flanked by the founder and benefactor of the school, along with some of the male teachers.
Ina and I hung out a lot, getting into trouble for some of our mischief and eventually deciding this voluntary work was going nowhere for various reasons and hit the road instead. Neither of us had planned for this, thinking it would be worthwhile staying in one place during our respective four and five months, but unfortunately we'd chosen the wrong organisation.
We took an overnight coach that took the bumpiest route to Mumbai to escape the cold muggy weather north of Delhi where we had been. I stepped off the coach with dreadlocks from sleeping with my head rubbing against the pile seat during all the reckless driving, happy to get away from the man in the seat behind me who'd never been persuaded to stop touching my bum with his cold toes. After spending Christmas recuperating in the turquoise waves off Goa and lapping up sun we decided to finish our volunteering on a better note and went to Kochin on the southwest coast.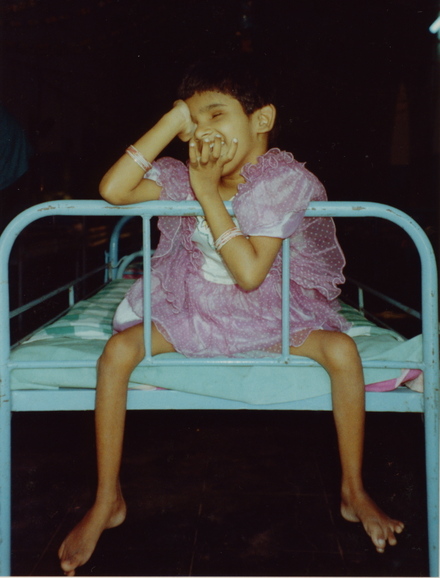 We worked at a Mother Teresa home for handicapped children for a week or two - going through the mountains of laundry every morning, washing the children and teenagers who were harshly dumped on plastic beds and sprayed with water, feeding a revolting gruel that smelled of barley malt and trying to give some love and warmth to whoever was able to receive. I loved this little girl in the photo above. She'd always sit like that, smiling sagely and rotating her wrists to make the bangles jingle, clearly the thing that made her happy more than anything.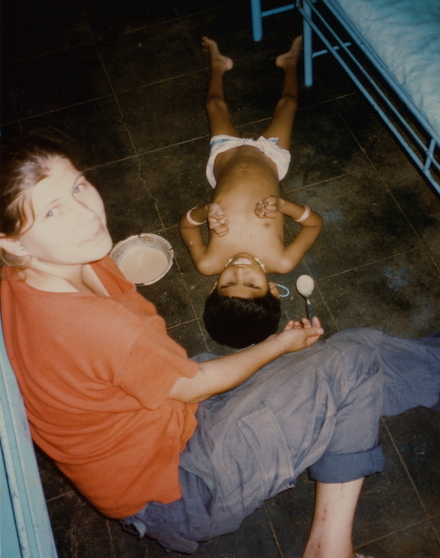 I hated feeding her but was told this was the only way. She'd eventually swallow when she felt ready, but not until you'd filled up her whole mouth. I secretly admired her, controlling and enjoying her life to the extent possible in this place where the inhabitants were loved but bossed around sternly. The women working there were either widows, single women or nuns, all with nowhere else to turn.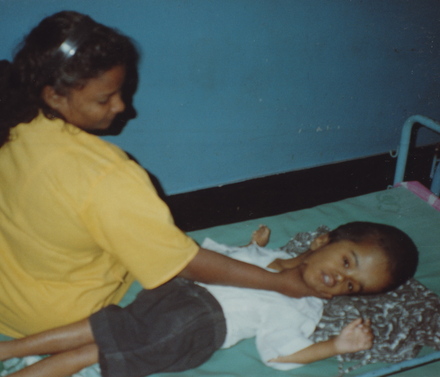 I keep thinking Manu when I see this picture so perhaps that was his name. I don't know what his hydrocephalus was due to (the swelling of his head), but I got the clear impression he wasn't going to live very long. The woman had taken to him and took care of him, which I was so relieved to realise.
One day I was sitting on the bed opposite with the three-year-old girl lying there. She was the most tragic soul in the place, tiny like a month-old baby with her legs folded up to her chest, muscles tense like stone, chest heaving with terror and a face that broke your heart. Feeding time was a nightmare and I still can't forgive myself for going through with it.
Me and Ina would spend a long time massaging her wasted limbs, offering some fleeting relaxation but soon afterwards she'd be in protection mode again. That one day I was massaging her and suddenly heard an explosive laughter from the other side of the aisle and was surprised to see the little guy laughing at me! He'd never said a word, even less showed any expression but the woman told me I must have done something he found hilarious, bless him.
Kochin was one of few places I could find a 'normal' breakfast, (sick and tired of chapatis and white bread made of foam) having oat porridge with milk and some tangy bananas. In the afternoons we'd go to the market by the seafront to buy mangoes and eat them after a shower, dribbling sticky juice down our chins before going to bed with the bedbugs.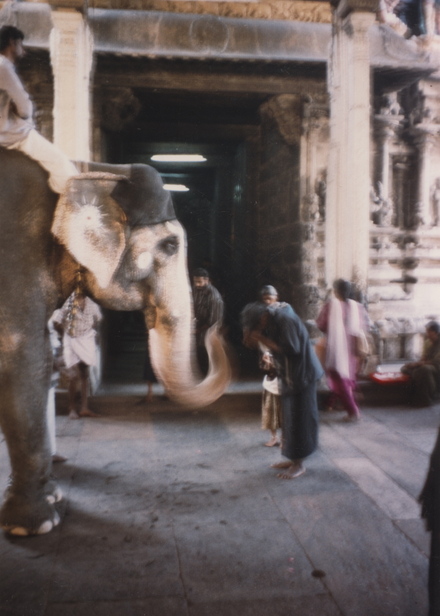 When she saw them, Ina promptly bought the temple elephants a considerably sized bunch of bananas. The creatures were constantly swaying from side to side in distress, including a baby elephant chained to the hind leg. Her love for animals was always present and she now works as a veterinarian.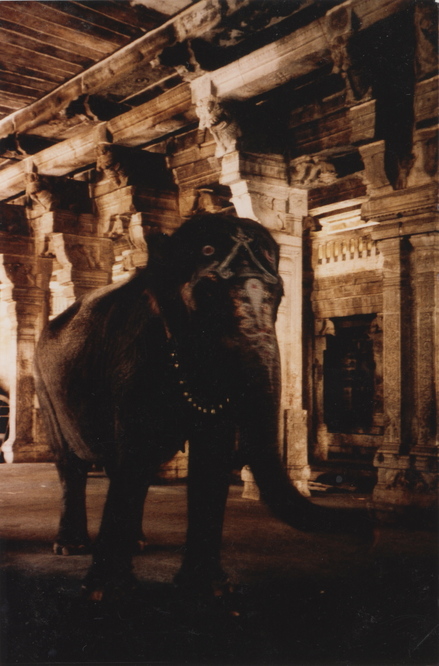 We left Kochin after the New Year to venture further into Kerala. A boat trip on the waterways flowing parallel to the coastline, watching small canoes in front of the riverside huts with palm frond roofs, colourful clothes hanging to dry, eating curry on banana leaves with plump southern Indian rice.
Going inland we stopped in Madurai, walked barefoot over the cool stone in temple courtyards, heard the bells tinkling, smelled the incense wafting out from the shrines, walked the busy streets where vendors sell anything related to Hindu devotional practice. I found my first louse scratching my head during a rickshaw ride through the city centre and spent the remainder of the trip trying to leave them behind.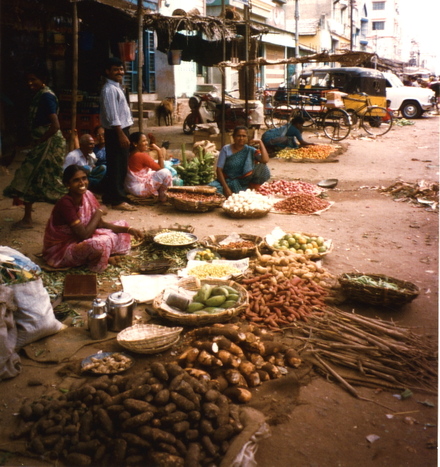 I loved the street sellers and often had to run to catch up with Ina's long legs, having fallen behind choosing some hard green guavas, a plump mango or some tiny orange bananas that had the most sumptious taste, more tangy than sweet.
A festival dedicated to the marriage between Vishnu and Sita (I think) brought all these people to the streets at four o'clock in the morning, sacrificing the bright white interior of coconuts (to symbolise the purity of the heart), leading the painted temple elephants and holy cows through the crowds.
Crossing over the hills from Kerala to Tamil Nadu the scenery changed to lush green forests and rich orange soil and we rented bicycles, exploring the countryside, seeing goats with their horns painted in bright colours for a festival.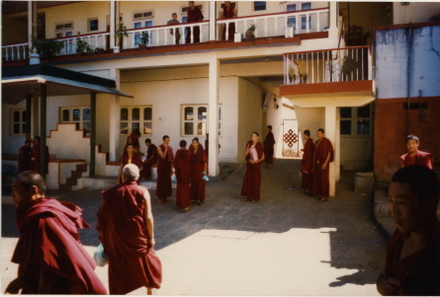 Further on in our swift travelling we stayed in the little hostel inside a Tibetan buddhist monestary, standing out like sore thumbs among the burgundy robes of the monks. Attending one of their prayer ceremonies we were served a traditional tea that after the first sip presented me with a dilemma. I could barely keep down the rich, salty liquid, generously prepared with butter (no doubt an essential ingredient in the freezing Tibetan mountains).
I decided on quick gulping, only to be approached with the teapot a second time. In desperation I was quick enough with my hand covering the cup though, thinking the risk of being perceived as rude by declining their hospitality would be preferable to throwing up in their temple.
The young monks' education includes discussion skills that fascinated both of us - groups of young men paired up with one standing, one sitting. The standing man would rattle off a quick argument and instantly clap his hands in a move with his whole upper body towards the opponent who would rapidly counter with an objection and so it would go on.
Many Tibetan children flee the conditions in their home country and end up in a children's home nearby. The newly arrived all have rosy cheeks in their acclimatisation to the hot humid climate in the south of India from the cold dry altitudes of Tibet.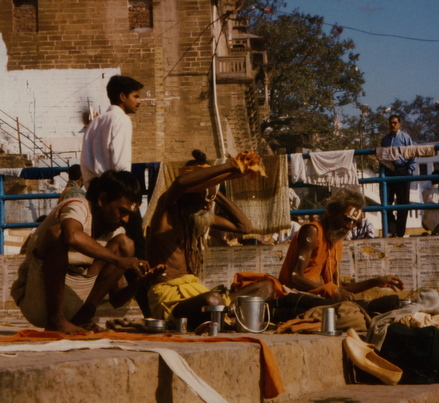 Taking the train from Mysore to Varanasi took two days and a night - with bottoms sore from the hard seats, families sharing their chapatis and dhaal, crowded stations, the early morning calls of 'chai, chai, chai', sweaty skin sticking to the plastic bunks at night, worrying about the luggage chained to the bed by your feet, resisting advances from young men with misinformed expectations, the beggars crawling or hobbling along the aisles, the women readjusting their saris throwing the scarf across their shoulder, the school children on an outing excitedly chattering.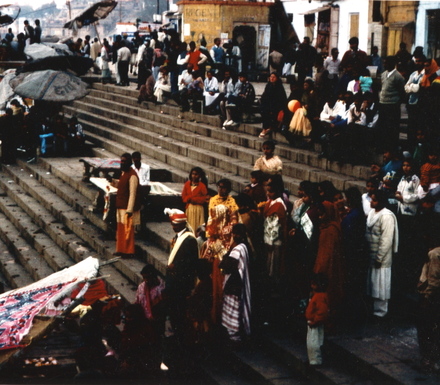 Indian wedding by the Ganges, the bride in red and gold
In Varanasi I remember the sadhus with their ashy foreheads on the steps of the ghats, the curd (yoghurt) served in tiny ceramic pots on the corner of one of the myriad winding streets, the western woman in a deep red punjabi dress with a bright yellow satchel that knelt down at the water and drank from a cupped hand, the vegetable sellers squatting by their spread blankets, the kites flown from the roof tops, the skull that had washed up in the Ganges mud, the smoldering funeral pyres, the buffaloes lovingly washed and scrubbed by their keepers, the wedding with the shy wife following her husband down the steps, the pooja with a young brahmin priest lighting incense in the night and chanting with the rhythm of his bell, the candle offerings floating down the river in little paper bowls filled with orange chrysantemum petals.
Next was Rajasthan with its desert cities and strange temples, if you'd like to come along for some more in the next half.