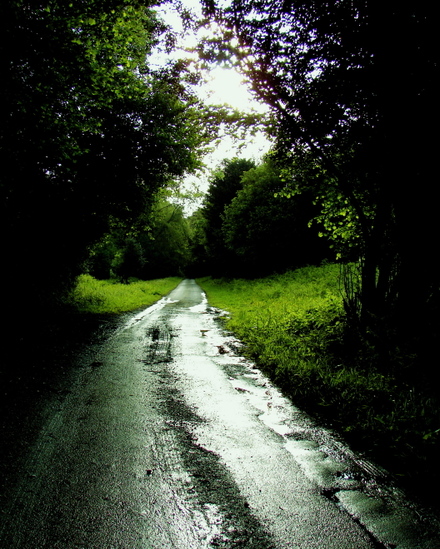 I've been inspired (still in bed but not so quiet) lately by you folks doing the Mondo Beyondo ritual of letting go of the past year (originally from Andrea at Superhero Designs, last seen at Kristen's and Marilyn's) and it resonated with me. Feeling quite lost over the last couple of months and without a spark, I think this is something I need to do in order to remember and honour the things I have done and what it was like when the light wasn't dimmed.
I have a feeling I'll do this ritual again and again each year, it will be my first tradition of my own. I've never been fond of new year's celebrations. It seems a waste to spend the first shimmering day of the year sleeping and hung over, in the worst place to begin harsh resolutions, but this ritual is just what I've always had in mind to do. What would you like to honour and wave goodbye in the past year?
~ Mondo Beyondo 2008 ~
In order to declare 2007 complete:
what do you want to acknowledge yourself for in 2007?
what did you create?
what challenges did you face with courage and strength?
what promises did you keep to yourself?
what brave choices did you make?
what are you proud of?
In 2007 I recreated my blog that I had given up on in 2006, set up a habit of posting every other day and taking pictures pretty much daily, put myself out there despite my fears and inadequacies, made friends and kept them. I promised myself to write and leave it there, no taking back regardless of how unhappy I was the next day. Something that has given me thrills of joy and thrills of paranoia.
I faced the challenge of going to college pretty much every other weekend, hanging on in there despite the many times when I felt I can't do this any longer. I've nearly finished my (hard) second year and have handed in all but three of the (many) assignments, facing my greatest fear of not being good enough. Going from straight A's to weak B's and C's was something I had set myself as an essential prerequisite to doing this course with the lacking energy levels I've got to work with. Facing those demons has still got me in a dark place though.
I kept working on becoming who I want to be, daring to step off the path I knew other people preferred me to be on, choosing what I needed. Finding the clothes that make me feel happy and beautiful, wearing the jewellery I've never felt I could carry, cutting my hair off in the way I wanted it to be (my hairdresser still doesn't agree), coming to peace with my body and declaring that I will put it into shape when I feel ready to do it for me (not for the pleasure of others), returning to the magical, innocent child I have inside that wants to dream, allowing myself to fly even when I think I should sink.
I found photography and stuck with it, even though I'd never read the manual and my photos were not particularly original or daring - I just did it for a change, however it came out. It is one of few creative things I do because I love it, not because I think I should.

what is there to grieve about in 2007?
what was disappointing?
what was scary?
what was hard?
what can you forgive yourself for?
The hardest thing has been the last few months of seemingly being back in a place I thought I had covered more distance from. Of going into the thicket of my fears, not knowing if there is a way out on the other side. It is also the thing I am most proud of though, there is no other place to be but your centre and I'm once again standing in the middle of this stuffy, messy place - overwhelmed and tired already, but rolling my sleeves up.
The scariest and the thing I grieve the most is what I put my loved one through this spring though. Even though the experience is not something I regret, I wish I could take back the pain I caused him and others. I forgive myself for that, only because I don't believe in paying by punishing yourself as it ultimately sucks energy from everyone, but by giving and learning.

what else do you need to say about the year to declare it complete?

Even though I feel I have come a long way on my path, it still felt like 2007 was preparing me for something. It wasn't as sparkling new, adventurous and encouraging as 2006, but harder, more trying and forcing me to find strength inside. Something I have still to set free. For this I think 2007 has done its part and I try to be humble in not knowing the purpose of it all yet.
I declare 2007 complete!
the final step is to consider your primary focus for the year to come. what is your primary intention or theme for 2008?
* COURAGE * Oh boy (deep breath) here we go again! :o)

(part two, where are you going, coming soon)
Feeling in need of some light and colours in my life again I've put up these photos on Etsy - closing my eyes I've been conjuring the feeling of sandals on my bare feet, the warm breeze and the sunlight streaming in. Spring, I'm ready for you.