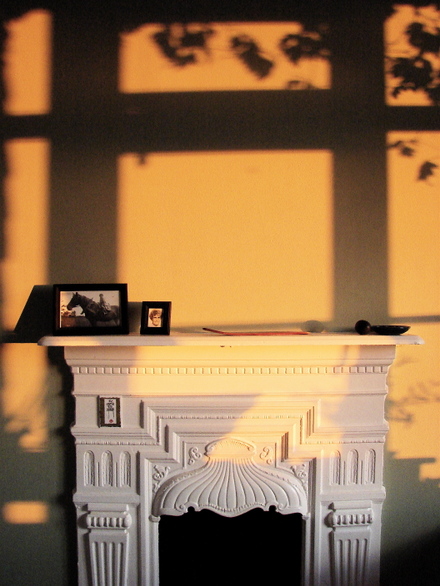 The fireplace. We have one in each of our two rooms, neither of them are functional as they were blocked off years ago. I love the old-fashioned intricate design of them though, and the fact that they are central to the room, somehow giving life, warmth and movement even though there is no flames playing around in the black anymore. Mind you, it would have been coal, so more like a flickering, crackling glow spreading. The setting sun does her best, adding her own decorative patterns to the chimney breast.
I was reminded with this picture of a drawing I did for my psychotherapy homework. (I'm intending to put up more of my drawings soon by the way, including this one, but for now I'll have to draw it in words for you) The assignment I was given this time was to picture my house. :) What would your house look like?
I instantly saw a small, white-washed stone house with a thatched roof. I was approaching it from the front, the side facing the street. It had no windows or door facing this way and there was no front yard - no, that's not true, there was a space there but as it was not fenced in and had nothing but gravel I thought of it more as a parking lot. I walked past the side of the house which looked exactly the same, except a thin, overgrown sunflower/calendula was straggling up the wall.
Once I turned the corner however, the view changed completely. Here was a wild, crowded and chaotic garden of lush plants, shrubs and trees, colourful flowers and herbs growing into and over each other, all in a jumble, covering every inch. That delighted me!
The back of the house had two small windows and a door, all very close to the ground due to the low roof but beautiful in their simplicity - worn, sunbleached wood and a humble step of smooth stones. Indoors there wasn't much either, a mattress on the floor, a few books in piles and strewn on the floor. The ceiling was low and not much light found its way in (not surprising with the lack of windows and a jungle stealing any sunshine from the back!). I suppose the most striking thing though, which I hadn't noticed but my therapist pointed out, was that there was no fireplace. There was no source of warmth and no outlet through the ceiling for smoke or air.
As with all the visualisations I was given, this house represented an aspect of me. Each time I was surprised how instantly and effortlessly the images came to my mind, before my logic gave me a prettier, more appropriate picture that I had to disregard. I didn't have time to mentally reason my way to what I must look like inside if I was a house, I just let it come. The imagery is still with me and I still find truths in it, things I hadn't even considered when I first found them.
The deserted front of the house represents to me my preference to ignore whatever is going on around me and immerse myself in my imagination - turning my back to the bustle of the street. The lush overgrown chaos isn't however creating harmony or letting light come through which shows that so far I hadn't quite harnessed that power of imagination to work for me and nothing much was coming to fruition. The barren inside of the house was pretty much how I felt then - the low oppressive ceiling, the lack of light and the need for an outlet upwards. My feelings had nowhere to go. And I didn't have an inner source of warmth and nourishment.
I learnt so much from that. The importance of collecting kindling for inspiration to light, to keep the fire as hot as I could manage, to let the smoke flow (however small and struggling the wisps were to begin with) out the chimney, to begin the arduous, and very real, work of tending seedling dreams into reality before they grow too quickly into fruitless stragglers, plant seeds where I want them in my garden, not just where they haphazardly fall, and gradually, gradually, to turn my house around, put a few windows in facing the street, let some people in and heighten the ceiling.
I'm comfortable in my house now, though I often need a chimney sweep, I'm a lenient gardener and I still seem to spread my books all over the floor.
Now, what does your house look like?