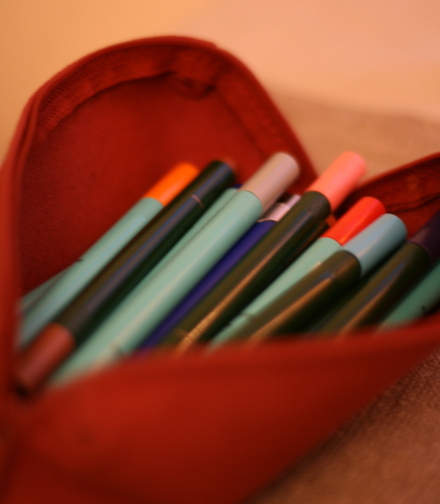 for all you colourful people in my heart-shaped pencil case. :)
One of the things I often write in the comments when visiting people is - oh, you just made my day! Something or other just makes me so happy and content from their words, something feels very right about it. It might not be the most striking event in my day, but the thing that makes the hours fall into place with a satisfied sigh. So I was delighted with this award that is going around right now - what a treat! I get to give something beautiful back to all of you who truly make my day, every day.
Give the award to up to 10 people whose blogs bring you happiness and inspiration and make you feel so happy about blogland! Let them know by posting a comment on their blog so that they can pass it on. Beware! You may get the award several times!

I give this award to:
Abbey
Angie
Anne Marie
Daisies
Kateri
Kristen
Leonie
Liz
Maddie
Pixie Dust
Rachel
Thea
And, because the people who gave this award to me are people who make my day over and over, I want to give this award back to them. Actually, I also quite like breaking the rules sometimes... :>) You might not want to count the ten either. Thanks for the inspiration Marilyn! :)
There have been so many new people leaving comments on my blog lately, since December actually, and I want to give you collectively a You Make My Day award, because you do. My day lights up every time I see a comment from somebody new. I still haven't sat down and visited you all properly though, but please don't think I've forgotten you, I am grateful and delighted that you come and that you like what you see. I will come see you soon!
Much love to you all and wishing you hints of spring in a mild breeze.