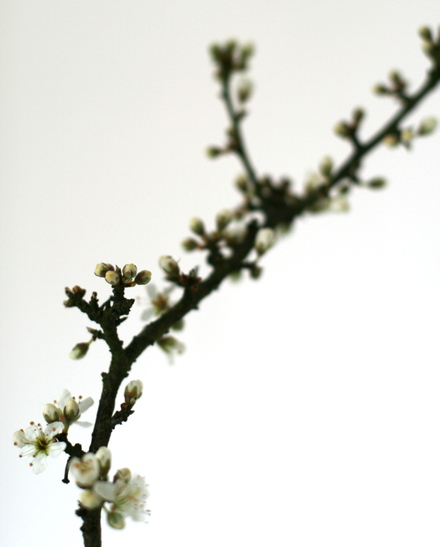 Of course it hurts when buds burst.
Otherwise why would spring hesitate?
Why would all our fervent longing
be bound in the frozen bitter haze?
The bud was the casing all winter.
What is this new thing,
which consumes and bursts?
Of course it hurts when buds burst,
pain for that which grows
and for that which envelops.
Of course it is hard when drops fall.
Trembling with fear they hang heavy,
clammer on the branch, swell and slide -
the weight pulls them down, how they cling.
Hard to be uncertain, afraid and divided,
hard to feel the deep pulling and calling,
yet sit there and just quiver -
hard to want to stay
and to want to fall.
Then, at the point of agony and when all is beyond help,
the tree's buds burst as if in jubilation,
then, when fear no longer exists,
the branch's drops tumble in a shimmer,
forgetting that they were afraid of the new,
forgetting that they were fearful of the journey
- feeling for a second their greatest security,
resting in the trust
that creates the world.
Karin Boye, translation by Jenny Nunn

This poem by one of my favourite poets reminds me of Kirsten Michelle's post a while back. For you, yes you, who are quivering on the branch or desperately clinging, freefalling towards the unknown or for that matter just quietly and gracefully going into bloom, this is for you.
These days I walk around, quiet inside, slowing my breath and feeling my way, listening. The further in you go, the more precise you focus, the more centered you align yourself, the tighter you curl up in softness, the stiller you are and the more silence you allow - the hotter and smoother the flame of your fire.
I am interested in where I give my strength away and why. I am interested in that place at the core of me, that is soft and fluid, but strong and swift. I am interested in what I really feel and want and what the most true expression of that would be. I am interested in living deliberately and having the courage to go for it, to trust yourself.
I'm slowly writing about my trip to India so next time should be Part One of that. Thank you so much for dropping in and checking on me, that made me smile. I feel connected to people like I have never felt before.
Wishing you that reassuring strength, the joy and confidence that your body will support you, the miles you have in your legs, the courage you have in your heart, the integrity of your spirit, the lightness of being on your path. Much love to you.